HOME
LOG IN
SIGNUP

Advertiser Info
Movie
Categories

ALL Public Domain Torrents DIVX titles
on a 1TB external Hard Drive!
1TB Drive with 900+ titles DIVX
Includes PDTMovieburnerMF DVD burning software All for $550


Did you ever wish you had all the titles you see here, without the wait of downloading? Or do you know someone who is a movie nut and would love all these titles as a gift?

I now have your answer! Buy all 900+ titles, over 750 Gigabytes of movie files, on a new and tested, 1TB (terabyte) external USB 2.0 hard drive!

Priced at only $550 (shipping is FREE)

The external hard drive itself has a value of approximately $300 - that means you get the titles at less than 50 cents each! (exact drive brand determined by availability at time of purchase - allow 2 weeks for testing/loading/delivery )

You also receive a free copy of the PDTMovieBurner Software, which you can use to create standard DVDs.

Give the Gift of an INSTANT huge movie collection!

With PDTMovieBurner, you select the file you have, be it an AVI, MP4, MPEG, WMV, etc,(from here or elsewhere) put a blank DVD recordable disc in your burner, and click MAKE THE DVD - Thats all there is to it.

This software will even FIND the drive with the recordable disc in it for you! Your result is a DVD you can play in most regular DVD players today!



A screenshot of the Full MF version: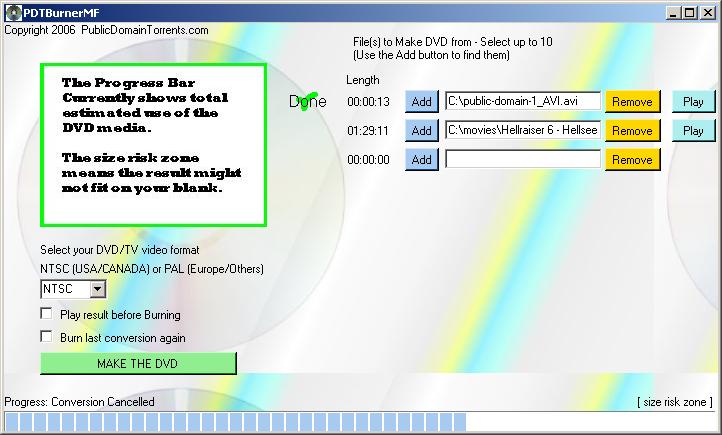 What it does NOT do!

It does not create a DVD menu, let you stick several small videos together and the like. The idea is to keep it 1 click simple! A more feature rich version (but therefore alittle more difficult to learn and use) will be available in the near future.

What is Different about PDT Movie Burner MF? The MF Version, allows you to mix and match up to 10 files to compose your DVD. You can also preview your results before burning!

What you need to already have.

For the PDTMovieBurner software you must have:

A computer running Windows XP
Microsoft .NET framework 2.0
(don't worry if you don't know what that is - many people already have it - and below is a link should you need to download a copy from Microsofts web site. You will know if you do not have it when you first run PDTMovieBurner, it will error out saying it failed to initialize.)
A DVD burner
4-8 Gigabytes of free space on your harddrive
Blank recordable discs that are compatible with your burner
(PDTMovieBurner will burn to even rewriteables if your burner supports them!)

For the USB 2.0 external Harddrive, you must have Windows 98E or higher, or a macintosh capable of reading NTFS. And of course an available USB port.

Liability and Warranty

Use of the PDTMovieBurnerMF software is granted as is and at your own risk. I will not be held responsible for any particular useage you intend to put it to, any strange things you do to your computer as a result of obtaining and/or using this software, any broken marriages, or anything else.

Software Copyright is retained by me the author. You may not resell this software - plus it would be very rotten of you since that would also damage my ability to keep this site available on the Internet.



For questions, suggestions, assistance, use the feedback link on the left side menu of this website as always.